No matter the weather, indoor shutters keep your home comfortable while adding a touch of timeless style. At Texas Shade Warehouse, we carry a wide selection of plantation shutters that are as elegant as they are effective. Plantation shutters are a popular choice in homes nationwide thanks to their great looks and versatility. Available in both real wood and composite materials, these shutters will help insulate your home from extreme weather, help to increase your home's energy efficiency, and add a boost of curb appeal.
Texas Shade Warehouse is proud to carry shutters from Norman and TWO, in addition to other top brands.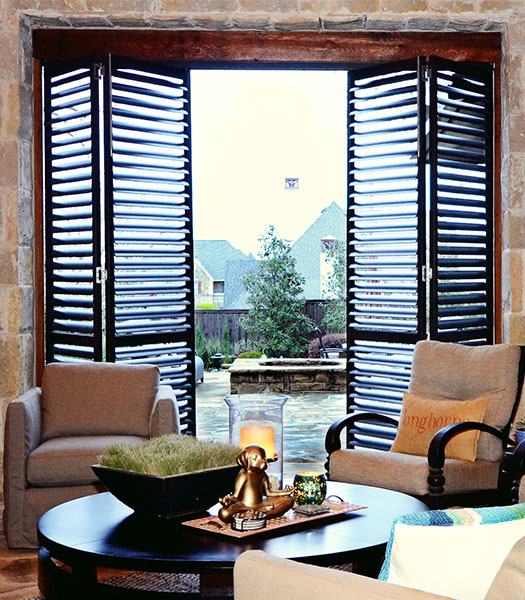 Shutters, blinds, and shades all provide homes with protection from the sun and increased insulation. If your main concern is durability, shutters are the right choice for you. Whether you choose wood or composite plantation shutters, they're built with thicker materials than the average blind or shade. Not only does this make them last much longer than blinds or shades; it also makes them somewhat more energy efficient. Since they don't have a cord, they're safer for homes with pets and small children. Best of all, they're customizable for windows of any shape, easy to clean, and always in style.
What material
should I choose?
While plantation shutters come in an array of materials, Texas Shade Warehouse offers homeowners a choice of real wood shutters and composite shutters. Many homeowners prefer the elegance and durability of wooden shutters, but composite has quite a lot to offer! Depending on how your home functions and what you're specifically looking for in a shutter, one may be a better choice than the other. Here are some things to consider when you're deciding between wood or composite shutters.
Don't forget that we can install different kinds of shutters in different areas of your home!
Texas Shade Warehouse guarantees a stress-free, seamless process. From beginning to end, every member of our team is committed to making your project as easy as possible. We'll never pressure you into choosing a product or design that you aren't comfortable with – although we're always happy to share our recommendations, our top priority is making sure that you get exactly what you want. Our only measurement for success is your happiness.
Make your home more comfortable with plantation shutters.
Contact Texas Shade Warehouse today to get started with a consultation!